Radio Liberty
Comments
Log in with itch.io to leave a comment.
Really cool game. Sad that I tried all codes from 3900 to 3999 and gave up :(

Ahh muchas gracias Nuria, en cuanto termine de trabajar lo sigo. Por cierto me pareces una crack y me encantan tus videos de Codely, a ver si avanzo en los cursos que me he registrado !!
Felicidades por el juego! me ha gustado mucho. Te sigo para jugar a tu próximos juegos. Un saludo.

Is game accessible atm?
Confused as I can't seem to be able to download it...
Hi! The game is playable in the browser. Clicking Start Game should work (I need to add some animation to the start screen because it looks like a screen capture at the moment 🙃)
The concept seems awesome so far, but I can't seem to figure out the password for the medical supplies
Oops!
Ok, here's a hint. I guess you already checked the ID card you picked up with the cloth. The first digit is 3, the second is 9 (1+8, 18 being the position of the mark).

Hope you enjoy it :)

Thanks for the hint! I figured it out
I got the first two but I do not understand what you mean by 18 and position. Can you just spoil the code for me. HELP
The code is the position of the marks in the barcode: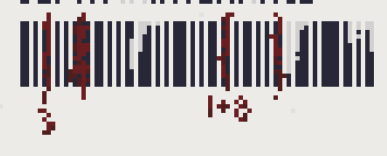 So the first digit is 3 because the mark is in the 3rd bar, then 6, then 9 because it's in the 18th position and we need a single digit, so 1+8, and the final one is 23, so 2+3. I was told people with colorblindness or certain screens can have a hard time noticing the marks in the barcode, I need to improve the contrast.

Anyway, the full code is 3695 :)

Thanks for playing!

I can't wait for more chapters! Game is great so far
Everything was well thought, really good game!
I'll wait for more chapters.